Domnick Hunter is a world leader in the filtration, purification and separation of compressed air. Specialising in the fine end of the market where product quality, support and technological excellence are paramount, it designs and manufactures filters, dryers, breathing air purifiers, condensate management products and ancillary equipment
Domnick Hunter also manufacture and supply filters for the clarification, stabilisation and sterilisation of liquids and gases, principally in the pharmaceutical, beverage, food and electronics industries, and also in laboratories.
Process Pumps has many years of experience in supplying Domnick Hunter products, ranging from supplying replacement element kits to fabricating complte pre-packaged plant systems. So whether your needs are big or small, Process Pumps will be happy to assist you.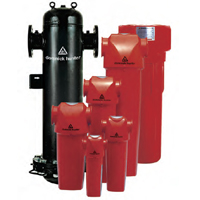 Applications
Compressed Air Treatment
Filtration to 0.01µm
Oil Removal to 0.003mg/m³
Breathing Air Filtration
Air Dryers
Water Chillers
Nitrogen Generators
Hydrogren Generators
Biological Treatment
Food & Pharmaceutical
Oil/Water Separators
Medical Vacuum Filters