Eaton filtration products (formerly Loeffler and Hayward filtration) manufacture a leading edge range of liquid filtration products including; bag filter housings for capturing unwanted particles suspended in process fluids and food products, along with basket strainers for capturing larger contaminents which may cause damage to process equipment such as pumps and flow meters. Below is a brief summary of the popular range of filter products
Eaton Topline bag housing: Simply the best single-bag filter housing available. Investment cast construction, over-the-top fluid entry with quick and easy bag changing make these filters idea for batch filtration. ASME code stamp and exclusive 5-year warranty are standard with TOPLINE Filter Housings.
Eaton Sideline bag housing: A Sideline vessel from Eaton is a full-featured investment-cast filter vessel with an ASME Code Stamp and Eaton's exclusive five-year warranty. A bead, not sand, blasted finish that makes cleaning complete and a cover that can be easily adapted to different opening directions are among Sideline's many value added features. With Sideline you can take advantage of all of the benefits of stainless steel at a carbon steel price. Even if your process doesn't require stainless steel now, you can take advantage of stainless steel's superior corrosion resistance and consistency of performance
Eaton Flowline bag housing: A Flowline stainless steel bag filter housing from Eaton is the best choice for industrial, commercial and OEM applications that do not require a code stamp. Its cost-effective design incorporates all of the features heavy duty applications demand, including an investment cast swing bolt cover that can be adapted to different opening directions in the field and a quality stainless steel mesh restrainer basket for reduced pressure drop. Flowline's stainless steel construction ensures years of trouble-free, consistent performance at a price comparable to that of many carbon steel housings.
Eaton Ecloline bag housing:High-quality, economical filter housings for cost sensitive applications up to 100 psi. You can now take advantage of an Ecoline stainless steel vessel from Eaton at a price that compares to carbon steel. Even if your application may not now require stainless steel, you can still take advantage of the superior corrosion resistance and consistent performance you'll get over the years. Should your process parameters change in the future, you'll avoid the cost and hassle of an expensive upgrade from carbon steel. The ECOLINE saves operating costs, too, with its simple, easy to operate V-clamp closure that makes bag changeouts quick and easy.
Don't forget to enquiry about our range of Eaton filter bags. A wide range of styles, micron ratings, and materials are availalble to suit your application. Contact Process Pumps for more information on what is available to suit your requirements.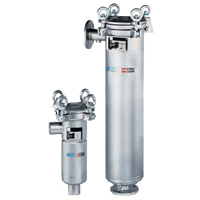 Available Housing Materials
304 Stainless Steel
316 Stainless Steel
EPDM or Viton O-rings

Available Sizes
#02: Double length (7" X 32")
#01: Single length (7" X 17")
#04: Double length (4" x 15")
#03: Single length (4" x 9")

Filtration Level
0.1 micron to 800 micron