Complementing our range of mixer products, Process Pumps is pleased to offer our range of high shear top entry emulsifiers. The highly engineered products not only mix products in a tank, but the tight tolerance shearing disc shears small particles into incredibly fine pieces.
Our design is ideal for client who need raw products emulsified into a liquids solution, such as ink, paints, and agriculture products. Our emulsifiers are also suitable for use in the food and pharmaceutical industry as the wetted sections are manufactured from 316 Stainless Steel as a minimum.
Sizes range from compact 1.5kW units up to 22kW designs, which will suit larger batch tanks. Our emulsifiers are perfectly balanced and designed for rapid cleaning and maintenance. In many cases a variable speed motor is fitted to fine tune your power consumption versus emulsifying performance.
For more information on our range of emulsifiers, please don't hesitate to contact the sales staff at Process Pumps who will be happy to assist you in designing the ideal solution for your application.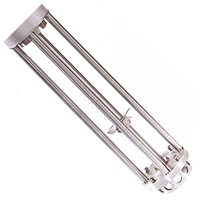 Applications
Ink & Paints
Food
Pharmaceutical
Cosmetics
Features
Low maintenance
Economical design

For more information on the Process Pumps range of Emulsifiers, please contact the staff at Process Pumps (Australia).