Suitable for some applications where exotic metal constructed pumps would be required, the all GRP (fibreglass) pump can be a useful alternative.
The PolyChem pump has all wetted materials constructed from glass reinforced polymer, otherwise abbreviated to GRP and is commonly referred to as fibreglass. This material offers excellent corrosion resitance for a cost more in line with ductile iron constructed pumps. Most commonly these pumps are found on applications involving acids or chloride rich liquids.
The unique tapered polygon shaped impeller is fully adjustable against the font casing, allowing for maximum pump efficiancy, and offers excellent strength and torque carrying capabilities. A wide range of mechanical seals can also be fitted to the pump further enhancing the range of applications this pump can handle
PolyChem pumps are built to ANSI/ASME B73.5 M standards, allowing for easy retofitting into existing pump applications. For more information regarding the Polychem GRP range of pumps please contact the sales staff at Process Pumps who will be happy to assist.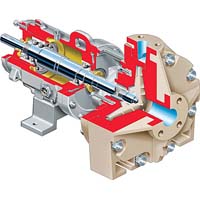 Wetted Pump Materials
GRP (Fibreglass)
Features
Flows to 2050m3/hr
Heads to 150 metres
Pressure to 17 Bar
Temperature: -45oC to 120oC
ANSI/ASME B73.5M Standard
Industries
Mining
Power Generation
Chemical Processing
Pulp & Paper