Established in 1964 ISMATEC produces high accuracy/long service life precision engineered designed with consultation with laboratory and production customers.
ISMATEC pumps can be used in a wide range of applications, from pumping highly sensitive biopharmaceutical liquids to industrial dispensing and filling. ISMATEC also produces a range of pumps suitable for OEM applications, these OEM pumps can be integrated into a clients complete, marketable product.
Available pump types avaialble include; single and multichannel tube pumps, gear pumps, and valve-less piston pumps. Complimenting each pump type is a wide range of drives, from simple direct driven units to microprocssor controlled batching and dispensing systems.
Pump Range Summary
Tubing Pumps: 0.001ml/min to 13L/min
Gear Pumps: 1ml/min to 12 L/min
Rotary Piston Pumps: 0.025ml/min to 2.3 L/min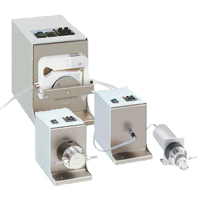 Industries Served
Laboratory
Medical Research
Semi-Conductors
Idustrial Dispensing
OEM Manufacturers
Other Features
PC Controllabe
Analogue Inputs
Analogue Outputs
High Repeatability
Precise Flow