The JEC range of pumps are ideal for use in applications where not only food safe materials need to be used, but the overall pump design needs to be sanitary also. This is acheived by polishing all contact surfaces and ensureing there is minimal space for liquid to pool when not in use and will be flushed when run through a CIP process
JEC have used these design principals to develop a range of pumps ideal for use in the food, pharmaceutical, biotechnology, and electronic industries, where clean pumping with no contamination is essential. The available pump styles include centrifugal, rotary lobe, and emulsifiers. All pumps are constructed from 316 Stainless Steel at a minimum and feature sanitary connections. All pumps are simple to disassemble for additional cleaning if required.
The centrifugal range of pumps are ideal for use on low viscosity liquids such as juices, dairy, and brewing applications. The mechanical seal can be replaced through the pump casing which means complete dismantling of the pump is not required. For higher viscosity products such as creams and pastes, the rorary lobe style of pumps are better suited. These pumps use the positive displacement principal to handle the higher viscosties and can also gently handle solid products without excessive shear which ensures the products are not damaged in the pump process.
For applications which require the breaking up of particles or blending, the the emulsifer range of pumps are specifically designed to highly shear the pumped products and break them into far smaller pieces. Applications may include any that require homogenizing, dissolving, and texturizing of products. All pumps are completely sanitary in design and full CIP. JEC Pumps and emulsifiers may also comply to FDA, GMP, EHEDG, and 3-A standards.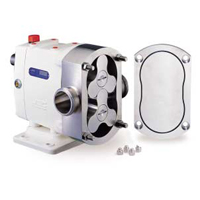 Pump Features
316 Stainless Steel
Polished to 0.8Ra
Optional polishing to 0.4Ra
Ease of maintenance

Applications
Food processing
Brewery applications
Pharmaceutical
Dairy applications
Electronics/semiconductor