With over 50 years of experience in developing and manufacturing chemical dosing pumps Jesco is a proven performer in the dosing pump market. Their pump range covers everything from small solenoid driven pumps right up to high capacity plunger and mechanical diaphragm dosing pumps.
Features of the Jesco pump range include a wide range of construction materials, including; polypropylene, PVC, Stainless Steel, and exotic alloys for highly corrosive chemicals. Internal components are generally available in Teflon, Viton, Hypalon for the diaphragm style pumps, Stainless Steel or exotic alloys are available along with chemically resistant plastics for the plunger pumps. Pump controls can be limited to a simple stroke/time adjustment or if preferred advanced integrated variable speed drives with digital controls to further enhance pump control.
Jesco dosing pumps are suitable for any application where precise amounts of chemicals need to be added/injected to a process. Pumps with advanced digital controls can be integrated into existing measuring/PLC ensuring trouble free integration into existing chemical control systems.
Pump Range Summary
MAGDOS Solenoid Driven Diaphragm Pump: 0.1 to 105 l/hr - 16 Bar Pressure
MINIDOS A Mechanical Driven Diaphragm Pump: 3 to 39 l/hr - 10 Bar Pressure
MINIDOS E Mechanical Driven Diaphragm Pump: Flows to 114 L/hr - 10 Bar Pressure
MEMDOS E-DX Mechanical Driven Diaphragm Pump: Flows to 380 L/hr - 10 Bar Pressure
MEMDOS GMR Mechanical Driven Diaphragm Pump: 2000 to 4000 L/hr - 4 Bar Presssure
FEDOS Plunger Pump: 0.17 to 31.5 L/hr - 100 Bar Pressure
REKOS Plunger Pump: Flows to 725 L/hr - 200 Bar Pressure
KARDOS Precision Plunger Pumps: Flows to 1390 L/hr - 400 Bar

Many more pumps are available in the Jesco range, for more information please contact the Process Pumps sales staff for more information and assistance with pump selection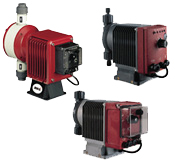 Pump Materials
PVC
316 Stainless Steel
Teflon
Viton
Hypalon
Other materials also available
Industries
Water Treatment
Chemical Processing
Pulp and Paper
Gas & Fuel Production