Lutz drum and container pumps are a safe, convenient, and efficient solution for the handling of hazardous chemicals, liquids, food products, and many other products transported in wide range of containers such as 200 litre (44 gallon) drums, 1000 litre bulk containers, and other vessels. Pump models available are designed to handle both low and high viscosity liquids in environments ranging from the laboratory to hazardous areas.
Availablle in a wide range of materials to suit almost any chemical compund, these pumps are capable of quickly and safely decanting your containers minimising manual handling by operators, reducing exposure to harmful chemicals, and reducing the risk of spills, which can be harmful to both personnel and the environment. Pumps can also be supplied in food grade materials for use in the food industry
Most of the centrifugal drum pump range is of a seal-less design, allowing for short periods of dry-running without causing damage, also featured is an internal bypass system which allows for shutting off the flow while operating which is useful when decanting with a nozzle from a large container into smaller vessels.
For viscous liquid applications, Lutz have a range of positive displacement drum pumps, these pumps are capable of handling liquids with viscosities between 1 to 120,000mPas and are available in 316 Stainless Steel with a range of elastomer options. Viscous product handling pumps are also available in food grade materials for applications that may include sauces, puree, honey, and other difficult to manage food products.
To complement these pumps, a wide range of ancilliary items are also availalble. These include flow meters, batching systems, nozzles,wall brackets, and many more. For more details please don't hesitate to contact the sales staff at Process Pumps.
Performance data - Centrifugal drum pumps
High flow models (R): Flows to 200 litres/min, maximum head 12 metres
High head models (L): Flows to 115 litres/min, maximum head 20 metres
B2-Vario models: Flows to 75 litres/min, maximum head 7 metres
Performance data - Positive displacement drum pumps (viscous duty)
HD-E range: Flows to 20 litres/min, discharge pressure to 4bar
B70 12.1 to 50.1 range: Flows to 50 litres/min, discharge pressure to 10bar
B70 80.1 to 120.1 range: Flows to 120 litres/min, discharge pressure to 6bar
Motor options
240VAC single phase, fixed and variable speed models available
115VAC single phase, fixed and variable speed models available
12 & 24VDC, suitable for battery operated applications
230-415VAC three phase motors (IEC Standard)
Australian certified (AusEx) flameproof motors also available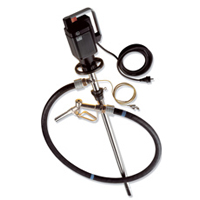 Pump Tube Materials
316 Stainless Steel
Kynar (PVDF)
Alloy-C
Polypropylene
Aluminium
Internal Materials
316 Stainless Steel
Alloy-C
Teflon/ETFE
Pure Carbon