The Lutz range of centrifugal magnetic drive pumps are ideal for pumping a wide range of potentially dangerous chemicals. The magnetic drive, seal-less principle of operation greatly reduces the risk of leaks and the chemically resistant materials ensure a long operating life of the pump.
Pumps casings and impellers can be supplied in glass reinforced polypropylene for common chemical applications, while ECTFE constructed pumps are ideal for harsh chemicals such as sodium hypochlorite which can chemically attack polypropylene construction pumps. Additionally, for use in hazarous/flammable environments the X-ECTFE constructed pumps are made from conductive ECTFE to discharge any static charge, making them the preferred option where flammable liquids and vapours are present.
Additional innovations to the Lutz range of pumps include; a selection of impeller bearing materials to maximise chemical compatibilty and wear rates, differing magnet strengths for handling heavy (high S.G.) liquids without trimming the impeller which leads to reduced pump performance in competitor pump designs.
The AM and TMR range of pumps utilise standard IEC frame industrial motors allowing for rapid motor repairs/replacement from any local motor supplier, this design also allows clients to fit their own preferred motor manufacturer/motor specifications.
Performance data - Maximum flow rates / head
TMB Range: Flows to 65 litres/minute / 8 metres maximum head
AM Range: Flows to 200 litres/minute / 12 metres maximum head
TMR G2 Range: Flows to 500 litres/minute / 30 metres maximum head
TMR G3 Range: Flows to 800 litres/minute / 42 metres maximum head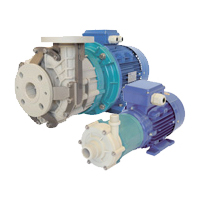 Pump Construction
GF Polypropylene
ECTFE
X-ECTFE

Static Seals
EPDM
Viton
Kalrez

Bearing/Shaft Materials
HD-Carbon/Ceramic or SiC
Rulon/Ceramic or SiC
SiC/Ceramic or SiC