March manufacturing produce a wide range of magnetic drive centrifugal pumps for a wide range of applications ranging from OEM based equipment to large chemical transfer pumps. Using a wide range of chemically resistant materials to ensure suitability for a wide range of liquids
March have a truly versatile range of pumps, with each model available in a wide range of materials such as polypropyelene, kynar (PVDF), Stainless Steel, and ryton, and polysulphate. As the pumps are magnetically driven, there are no mechanical seals requiring maintenance making the pumps virtually leak proof. Complementing the wide range of material options, a wide range of motor options are also available, with AC, DC, and compressed air options available for many pump models.
The smaller pumps are popular in OEM applications, wehere cost effective and reliable pump operation is a must. This is achieved through excellent pump design and suitable motor seletion, such as brushless DC motors which are capable of operating for upto 10,000 hours without maintenance. Epoxy coated pump and motor assemblies are also available for applications requiring a submersed unit
To select the right March pump for your application, please contact the sales office and we will assist you with your enquiry.
Performance data - Maximum flow rates / head
series 893: Flows to 11 litres/minute / 3.3 metres maximum head
Series 1: Flows to 9 litres/minute / 1.0 metres maximum head
Series 2: Flows to 25 litres/minute / 2.9 metres maximum head
Series 3: Flows to 33 litres/minute / 4.5 metres maximum head
Series 4: Flows to 50 litres/minute / 4.7 metres maximum head
Series 5: Flows to 60 litres/minute / 6.0 metres maximum head
Series 5.5: Flows to 110 litres/minute / 8.5 metres maximum head
Series 6: Flows to 110 litres/minute / 11.0 metres maximum head
Series 7: Flows to 180 litres/minute / 12.0 metres maximum head
Series 7.5: Flows to 268 litres/minute / 16.0 metres maximum head
Series 8: Flows to 400 litres/minute / 20.0 metres maximum head
Series 10: Flows to 680 litres/minute / 35.0 metres maximum head
Series 809: Flows to 27 litres/min / 2.7 metres maximum head
Series 815: Flows to 28 litres/min / 4.1 metres maximum head
Series 809: Flows to 27 litres/min / 2.7 metres maximum head
Series MDX: Flows to 30 litres/min / 4.0 metres maximum head
Series 320: Flows to 11.3 litres/min / 8.8 metres maximum head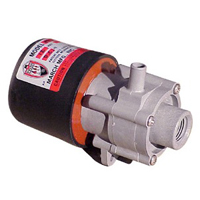 Pump Materials
Polypropylene
Kynar (PVDF)
Ryton
Polysulphate
316 Stainless Steel

Applications
Chemical transfer
Chemical agitation
OEM applications
Vending machines
Laboratory applications
Photo developing equipment
Ice machines