Process Pumps understands that every mixer application is unique. Every mixer assembly needs to designed correctly to suit the tank, the product to be mixed, and of course the preferred mixing time. Process Pumps has been designing and supplying mixers for over 20 years, and as such understands the myriad of factors that need to be allowed for when designing the right mixer for your application.
Process Pumps is able to design mixers for both small and large applications. Mixers can be of top, side, and bottom entry design, with a wide range of propellers/hydrofoils to suit almost any liquid composition. Chemical reistant materials are used on all components coming into contact with the mixing products, such as 316 Stainless Steel, titanium, and halar (teflon based coating).
Mixers are used for blending different products together, solids suspension, flocculation for water treatment applications, and gas dispersion. Each of these applications requires a different approach in designing the assembly.
Process Pumps designed and manufactured mixers are also designed to be efficient, with the preferred mixer design running at a slow speed. This reduces the required motor sizing and also reduces wear and tear on the various components making up the entire assembly.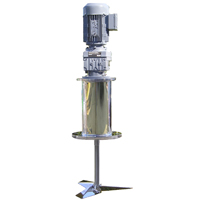 Applications
Blending
Dissolving
Solids suspension
Flocculation
Gas dispersion
Food & pharmaceutical
Features
Lower power consumption
Chemical resistant materials
Abrasion resistant coatings
Wide range of propellers