Pumping hot liquids can be a challenge for conventionally sealed centrifugal pumps; the mechanical seal needs to be designed to tolerate the intense temperatures, and the heat can be tranferred down the drive shaft into the motor. MP pumps has developed a range of pumps that overcome these issues, and are therefore suitable for use on applications where high temperatures are encountered.
The HTO range of MP Pumps utilise an isolated seal chamber with a special shaft mounted cooling fan to keep temperatures within acceptable limits for the seal while limiting the heat transfer down the shaft to prevent damage to the motor. These pumps are ideal for use on hot oils, chemicals, plastics, and food products. Additionally this design does not require any additional flush equipment or cooling jackets, simplifying the overall installation.
Pumps are close coupled to the driving motor which avoids the need to have the mounted on a baseplate and eliminates the need to align couplings between the pump and driving motor. All HTO series pumps are contructed from carbon steel with a Stainless Steel driving shaft. Standard mechanical seals are manufactured from silicon carbide/carbon with Viton seals.
Other pump types are also available from MP Pumps, such as the Chemflo range of Stainless Steel chemical centrifugal pumps and the Flomax range of self priming centrifugal pumps. For more information on the pumps available from MP Pumps, please don't hesitate to contact the sales staff at Process Pumps.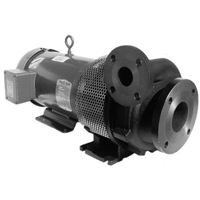 Applications
Hot Oil
Petrochemical
Refineries
Food processing
Plastics
Features
Max. Temperature: 340ºC
Flow rates to: 2000 litres/min.
Maximum head: 54 metres.