Regenerative turbine pumps are different from centrifugal pumps as they are capable of developing far greater discharge pressures (high head) by the turbine style impellers, while maintaining a compact pump design. Other advantages include lower NPSH requirements which makes them suitable for applications where the pump liquid may be prone to 'flashing off' or gassing, such as hot water and fuel/refinery lqiuids.
Available in a wide range of materials such as cast iron, bronze, and Stainless Steel, these pumps are often found in OEM applications where compact, cost effective solutions are required. By adding multiple stages (turbines) the pumps can reach discharge pressures up to 350 metres (35 bar). Smaller model pumps are availalble in either close coupled or long coupled configurations, allowing for flexible motor options
For applications with critially low NPSH availability, special inducers can be fitted, which redirects from flow from the discharge of the pump back to the inlet, adding additional positive pressure to the suction side of the pump, which in some cases can reduce the possibily for cavitation, therefore avoiding damage to the pump.
MTH also manufacture a range of sealed can motor pumps for applications where mechanical sealing is not recommended, such as pumping refrigerants and other gas like products.
Applications include
Boiler feed
Booster services
Car and truck washes
Chemical processing
Chiller systems
Liquid circulation
Condensate return
Coolant systems
DI water systems
Fuel Cells
Refrigeration
Seal flushing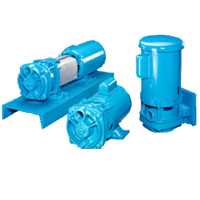 Pump Features
Low NPSH requirements
High discharge pressures
Compact design
Horizontal or vertical options
Discharge pressure to 35bar
Flow rates to 560 litres/min

Materials
Cast Iron
Bronze
Stainless Steel