Specialising in the manufacture of minature pumps and pump systems, TCS Micropump have innovative products for both OEM and individual applications
With a wide range of low flow pumps TCS Micropump have models which suit liquid, gas, and in some cases both media types. The majority of the range is powered by low voltage DC motors (both brushless and brush type) with excellent efficiency and are capable of fine control to achieve the desired pump performance.
Many pumps are CNC machined and are all metal in construction, ensuring the highest build quality. The minimal physical size of TCS Micropumps allows them to be used in many OEM applications where space is a consideration. Accessories available include DC power supplies and motor controllers, tubing, manifolds and valves, and minature heat exchangers.
Pump performance envelope - Liquid Pumps
M100 Series - Free flow to 400ml/min
M200 Series - Free flow to 535ml/min
M400 Series - Free flow to 2,600ml/min
M500 Series - Free flow to 10 l/min
MG1000 Series - Free flow to 950 ml/min
MG2000 Series - Free flow to 1,940ml/min
Pump performance envelope - Gas & Liquid Pumps
D200 Series - Gas flow range -420 to 620 ml/min / Water to 90ml/min
D250 Series - Gas flow range to 610ml/min / Water to 190ml/min

Pump performance envelope - Gas Pumps
V030 Series - Gas flow range 43 l/min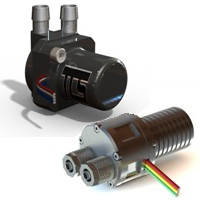 Pump Body Materials
CNC Machined Aluminium
316 Stainless Steek
Polyacetal
Available Elastomers
NBR
Viton
PTFE