By utilising extremly chemical resistant materials such as ETFE and kynar (PVDF) Texel magnetic drive centrifugal pumps are designed to handle extremely corrosive chemicals, while maintaining excellent reliability and protecting the environment from leakage by the seal-less design.
The ETFE and kynar internal components are encased in a cast iron frame to protect them from incidental damage and provide added strengthening to the pump casing. The pump lining can be replaced without requiring new external casing components, making these pumps economical to maintain. These pumps are commonly used in transfer applications where reliability is crucial
Pump styles range from standard end-suction to sub-ANSI designs for rapid 'drop in' replacement for existing conventionally sealed pumps. Typically close coupled to standard IEC frame motors or long coupled for larger pump sizes.
For less chemically aggressive applications, Texel have recently introduced the MEP range of pumps which are constructed from polypropylene. These pumps maintain the excellent reliability of the Texel range while introducing a cost effective solution for applications where ETFE or kynar is not required
For assistance in selecting the correct Texel pump for your application, please contact the sales staff at Process Pumps who will assist you in determing the best pump selection
Performance data - Maximum flow rates / head
MEP 040 Series: Flows to 100 litres/minute / 15 metres maximum head
MEP 050 Series: Flows to 400 litres/minute / 28 metres maximum head
MEH 040 Series: Flows to 50 litres/minute / 35 metres maximum head
MET 040 Series: Flows to 100 litres/minute / 40 metres maximum head
MET 050 Series: Flows to 400 litres/minute / 30 metres maximum head
MTA 040 Series: Flows to 300 litres/minute / 80 metres maximum head
MTA 080 Series: Flows to 1,200 litres/minute / 50 metres maximum head
MTA 100 Series: Flows to 1,200 litres/minute / 35 metres maximum head
MTA 200 Series: Flows to 5,000 litres/minute / 40 metres maximum head
MSX 100 Series: Flows to 2,100 litres/minute / 30 metres maximum head
MSX 125 Series: Flows to 2,000 litres/minute / 40 metres maximum head
MSX 150 Series: Flows to 3,000 litres/minute / 33 metres maximum head
MST 050 Series: Flows to 300 litres/minute / 67 metres maximum head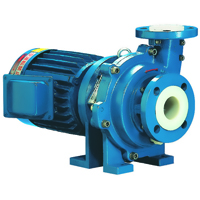 Pump Materials
Pump lining: ETFE or PVDF
External Casing: Cast Iron
Impeller: ETFE or PVDF
Shaft: Ceramic or SiC
Bushing: Carbon or SiC
O-rings: Viton
Other materials also available

Applications
Chemical transfer
Petrochemical
Semiconductor
Refining