The Timmer pneumatic glue pump has been specifically designed for use on labelling machines and for other glue related applications. Utilising a double acting piston the glue will flow smoothly with low pulsation.
Available with an integrated heater, the pump can be programmed to maintain a constant temperature as the glue is pumped. The easy to read display shows both the set temperature and the actual temperature of the glue as it passes through the pump. As the glue does not cool down as it passes through the pump, there is a reduced risk of thickening, leading to problems further down the pump line. Pumps without heaters are also available for applications not requiring additional liquid heating.
The air operated pump has excellent reliability and is quiet during operation, adjustments for stroke frequency are easily located on the pump housing, allowing operators to select the best flow rate for the labelling process. Timmer pumps are constructed from Stainless Steel with PTFE components, ensuring that there is a reduced risk of checmial attack.
Also available is a range of optional components such as drum moutning kits, drum lids, and glue strainers. For more information please contact Process Pumps where the staff can assist you further.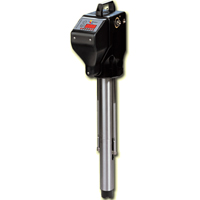 Pump Features
Smooth flow
Low pulsation
Reliability
Integrated heater
Stainless Steel construction
Quiet and efficient

Optional Components
Drum lids
Glue sieves
Mounting clamps