For many years Process Pumps has manufactuered a specialised self cleaning filter assembly - The Unifilter. These filters are used to prevent large contaminents from entering your water feed supplies, such as in power stations or steel mills. Without these filters, large solids may foul your pumping, cooling, and processing equipment.
The inline design of the Unifilter allows for easy fitment to exsiting pipelines, with no elbows or other complicated and costly plumbing work required. The filter basket is made of two layers, a thicker, coarse reinforcing layer, and a fine filtration layer. Both layers are manufactured from Stainless Steel.
When the filter medium can capture no more contaminents, the automatic sensors built into the unifilter will trigger the self cleaning mechanism. Specially designed backwash arms clean the filter layers and then discharges the dirty water through the dump valve.
Simple in design, making for long and reliable operating life, the Unifilter requires only a simple power supply to operate the self cleaning mechanism. Unifilters are availalbe in sizes ranging from 4" (100mm NB) to 12" (300mm NB).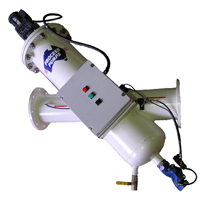 Applications
Power Stations
Steel Mills
Water Plants
Heavy Industry
Features
Low maintenance
Economical design
Easy fitment to existing lines
No external equipment required
For more information on the Unifilter range of filters, please contact the staff at Process Pumps (Australia).