Ideal for applications where high discharge pressures are required, Wheatley Gaso plunger pumps are ideal. These positive displacement plunger pumps can be supplied in simplex (single plunger) up to quintuplex (5 plungers) to cover a wide range of applications needs, including fluid injection, crude oil disposal, and any other applications where high discharge pressures are required. The proven design of the Wheatley Gaso pump is known world wide and used in many critical applications.
Process Pumps has been selecting, designing, and servicing Wheatley Gaso pumps for decades, supplied into refinery applications such as gas scrubbers, glycol injection systems and numerous other applications, we have a wealth of experience in selecting the right pump for your requirements. Our fabrication facilities allow us to complete the entire pump assembly to your specificiations.
Many Wheatley Gaso pumps comply to API674 (with exceptions) for refinery use, and their simple design and ease of servicability ensure that many years of trouble free running are certain, ideal for remote facilities where reliability is desired. Process Pumps is also able to supply all your spare parts needs and can even arrange on site service visits if preferred.
Please contact the sales staff at Process Pumps for more inoformation on what we can offer you in regards to Wheatley Gaso plunger pumps.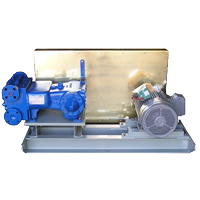 Applications
Refinery
Gas & fuel
Water treatment
Oil disposal
Glycol/TEG injection
Features
Maximum pressure: 690bar
Maximum flow: 4240 l/min