10K Series Micropump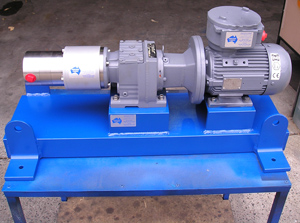 Micropump manufacture a range of precision engineered magnetic drive gear pumps. Here you can see an example of their largest model, the 10K series.

This pumps was manufactuted from Hastalloy-C for use on highly acidic chemicals, additionally it was to be installed into a hazardous area, and as such an explosion proof motor was selected to drive the pump. As the pump is hermetically sealed from the outside environment via its magnetic drive design, there is minimal chance that any of the hazarous chemicals can be exposed to the outside atmosphere.
(Click photo for enlarged version)
Product Link