Long Coupled ANSI Pumps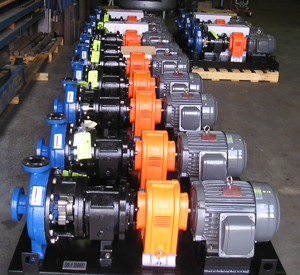 A major gas plant upgrade project called for a large number of long coupled ANSI pumps, Process Pumps was able to fulfill our clients needs.

Each ANSI pump was mounted on a painted mild steel baseplate, and coupled to the specified 3-phase motor. The client had a particular paint scheme for the pumps (note the blue front casings, black power ends).
These pumps are manufactured from chemically resistant alloys and fitted with high quality mechanical seals. Their robust construction ensures long term reliability and the ANSI pump design ensures easy supply of spare parts and interchangeability.

Each baseplate has the mounting surfaces machined flat to ensure the pump and motor shafts line up accurately, the couplings are then clocked to ensure run out is kept within specifications to ensure minimal wear on motor bearings, pump bearings, and coupling rubbers.
(Click photo for enlarged version)
Product Link