Metering and Dosing pumps are used for applications where precise amounts of additives and other fluids into pumping, mixing, and batch systems, their flow rate is highly controllable by adjusting the stroking rate of the pump and the driving motor speed. Bran+Luebbe manufacture a leading edge range of metering pumps based on decades of experience.
Bran+Luebbe metering pumps are deisgned to prevent any contamination from outside the pump entering the pumping chamber by hermetically sealing the wetted components. This can be cruicial for use in sensitive liquids such a potable water or when the pumped chemicals may be hazardous to the environment. Diaphragm monitoring systems can also be used to detect any diaphragm failures.
The standard pump configuration is either a mechanically driven diaphragm pump, constructed from 316 Stainless Steel with a Teflon diaphragm. However for applications where very high discharge pressures are required (up to 80bar), a plunger style pump can also be used. Plungers may be made from hardened Stainless Steel or aluminium oxide (ceramic).
Modular systems with multiple pump heads are available, which can reduce costs when multiple liquids are going to be dosed at the same flow rate. It also increases the repeatability rate across the pumpheads.
Servicing: Process Pumps is also proud to be an official Bran+Luebbe service agent. Pumps can be sent to our worshop for repairs and testing, or on-site visits can also be organised for assessment and training of maintenace staff. Spare parts supply is also easily organised through our experienced staff.
Performance envelope
Procam diaphragm pumps: 15 to 3000 litres/hour, pressure to 20bar
Procam smart diaphragm pumps: 5 to 175 litres/hour, pressure to 20bar
Procam plunger pumps: 0.46 to 60.5 litres/hour, pressure to 80bar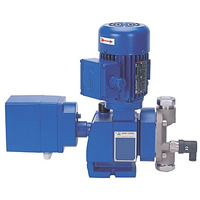 Applications
Chemical
Petrochemical
Refineries
Food & pharmaceutical
Water treatment