Crane Deming manufactures one of the most complete and diversified industrial lines of pumping equipment. Renowned for outstanding durability, efficiency and low-maintenance, Deming's product range includes end suction general service and process pumps, ANSI horizontal and vertical inline process pumps, horizontally split double suction single and two stage pumps, submersible motor and vertical column sump pumps, and horizontal and vertical solids handling pumps. They can be applied wherever fluids must be reliably and efficiently transferred - from general industry to nuclear applications.
End suction ANSI process pumps: All purpose centrifugal pump designed to B75.1 specifications, heavy duty service for liquid ranging from water and light hydrocarbons to heavy slurries. 14 sizes available with high temperature ranges to 600 degrees.
Flows to 3,700 litres/min
Head to 200 metres
Inline ANSI pump: Space saving, back pull-out design allows versatile applications in a wide range of industries. Available in 11 size configurations. ANSI pumps meet the dimensional requirements of ANSI B73.2
Flows to 4,540 litres/min
Head to 118 metres
Frame & close coupled end suction:These low cost pumps are engineered for use on most phases of liquid handling. These end-suction pumps are heavy duty, general purpose centrifugal pumps with heavy wall castings suitable for many commercial and industrial applications such as condenser, chilled, and hot water systems in HVAC and process secondary pumping. High efficiencies, robust case construction of cast iron, and impeller construction of bronze makes these pumps an ideal selection for applications that require easy-to-maintain, reliable, long lasting pumps.
Flows to 15,140 litres/min
Head to 207 metres
Many more pump styles are available from the Crane Deming range, such as split case centrifugal, sump pumps, and vertical process pumps. For more information please contact the sales staff at Process pumps who will be happy to assist you.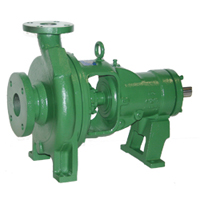 ANSI Pump Features
ANSI pump interchangeable
Back pull out design
Low NPSH requirements
External impeller adjustment

Applications
Chemical
Petrochemical
Pulp & paper
Power generation
Mining
Water treatment