When processes involve corrosive chemicals, using exotic metal components can be costly and hard to source. Hayward Flow Control products can solve these issues by supplying a wide range of components constructed from PVC, polypropylene, and PVDF (kynar). In many instances these plastic components can be far cheaper than the exotic metal counterparts.
Hayward Flow Control proucts encompass a wide range of components commonly found in most processing applications. These include valves, filters, strainers, bag filter housings, and check valves. A wide range of sizes is available in each product range to ensure that the right option is available for your needs
PVC & polypropylene are ideal for use on most acid applications, with excellent chemical resistance, for the most aggressive chemicals materials such as PVDF (kynar) can be used. For more information on the Hayward range of plastic procucts please contact the Staff at Process Pumps who will be more than happy to assist.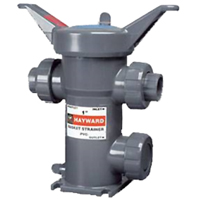 Available Products
Y-strainers
Basket strainers
Bag filters
Manual Valves
Diaphragm Valves
Check valves
Pressure relief valves
Regulator valves
Solenoid valves
Electric actuators
Pneumatic actuators