Magnatex Pumps Inc. manufacturers an elite range of seal-less, metallic centrifugal and regenerative turbine vane pumps, using corrosion resistant materials and long life components, these pumps are ideal for the harshest of environments where high temperatures, and highly toxic or aggressive chemicals are to be encountered.
The Magnatex range ecompasses applications where low to medium flows are required with high head output right upto high flow applications where rapid fluid transfer is required. Most pumps are close coupled to the driving motor which eliminates the need for pump/motor alignment, simplifying installation and ensuring reliable long term operation
The MAXP range of pumps conforms to ANSI B73.3 standards, allowing for easy retrofitting into existing ANSI pump installations, reducing costly pipe work modifications, while delivering the added reliability of a magnetic drive pump to ensure minimal risk of leakage and reduced maintenance costs.
The Magnatex range of pumps feature a compact design, integrating maximum pump efficiency, and are used in thousands of applications throughout the world on the toughest of applications. The main advantages of these pumps are their high reliability, low total cost of ownership, excellent ongoing support, and the low cost of maintenance. For more information on the Magnatex range of pumps or a quotation please contact the sales staff at Process Pumps.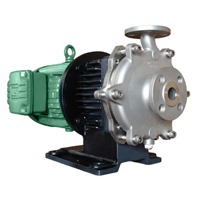 Pump Materials
316 & 316L Stainless Steel
304 & 304L Stainless Steel
Alloy 20
Hastalloy-C
Titanium

Applications
Chemical process
Petrochemical
Refinery
Pharmaceutical
Textile
Power generation
Semiconductor