Nitrogen Generator Skid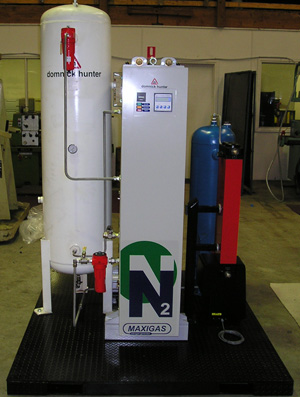 Process Pumps was asked to assemble a pre-packaged nitrogen generator skid for use in the food industry. The design needed to be compact and made from high quality components to ensure long term reiliability, Domnick Hunter components were selected to carry this out.

Nitrogen gas is used to keep food products fresh after packaging, being an inert physiologically safe gas makes it an ideal option. The generator skid is made up of the following components, a Domnick Hunter Pneudri air dryer, Nitrogen generator, inlet buffer receiver, nitrogen storage tank, and Oil-X air filters.
(Click photo for enlarged version)
Product Link